Art Out in Enmore; Self-Guided Tour
Suggested Enmore Street Art route below (but start anywhere or in either direction)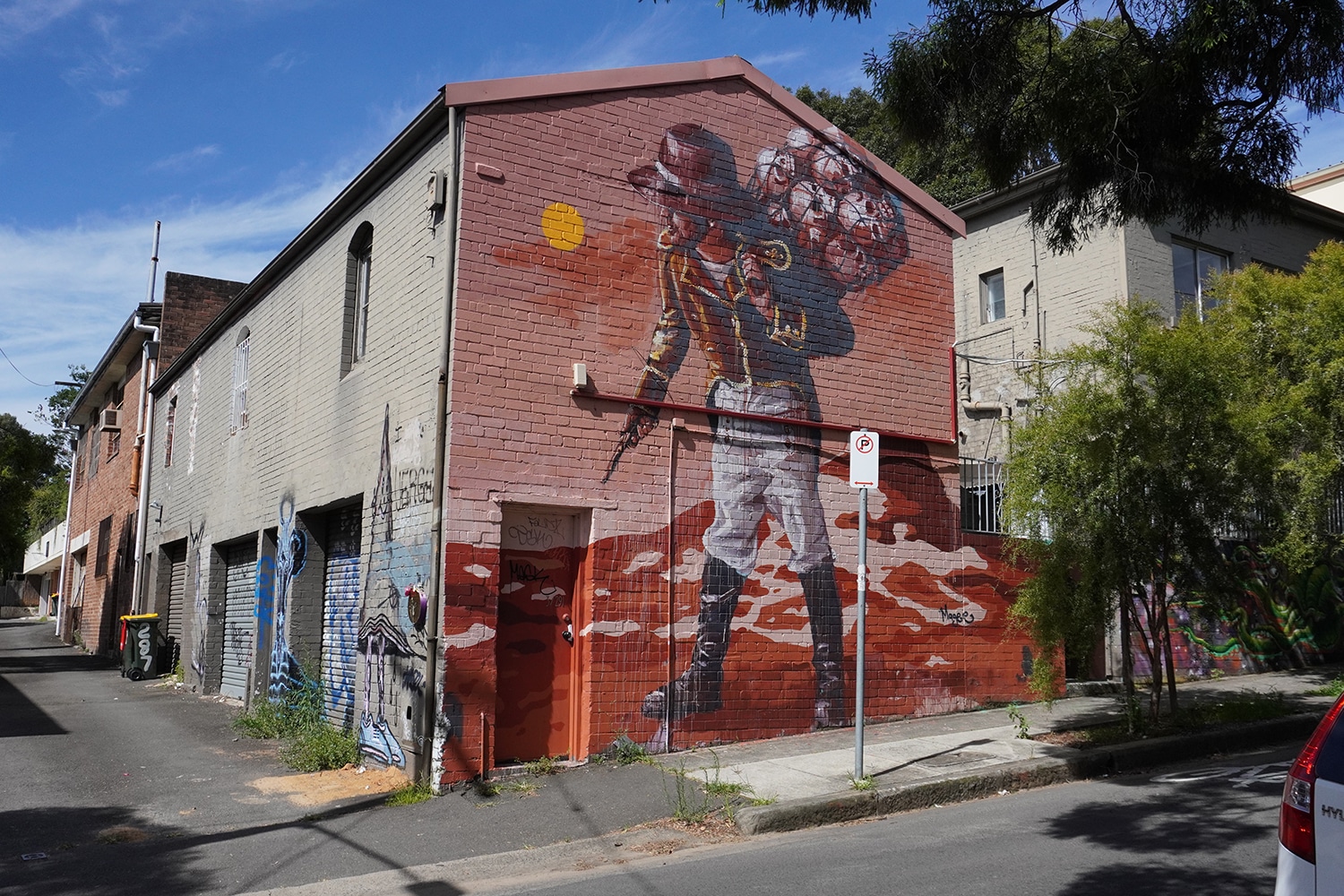 Newington Road Art
Fintan Magee is a Street Artist and Muralist who has produced many large-scale works throughout Sydney and Sydney's Inner West including Newtown, Chippendale, Redfern and Glebe. Fintan Magee's 'Spirit of Australian settlement' was completed on Newington Road, Enmore in October 2014 (Virtual Tour)
Start (or end) your tour here and grab a coffee at Ladies and Gentlemen Diner around the corner!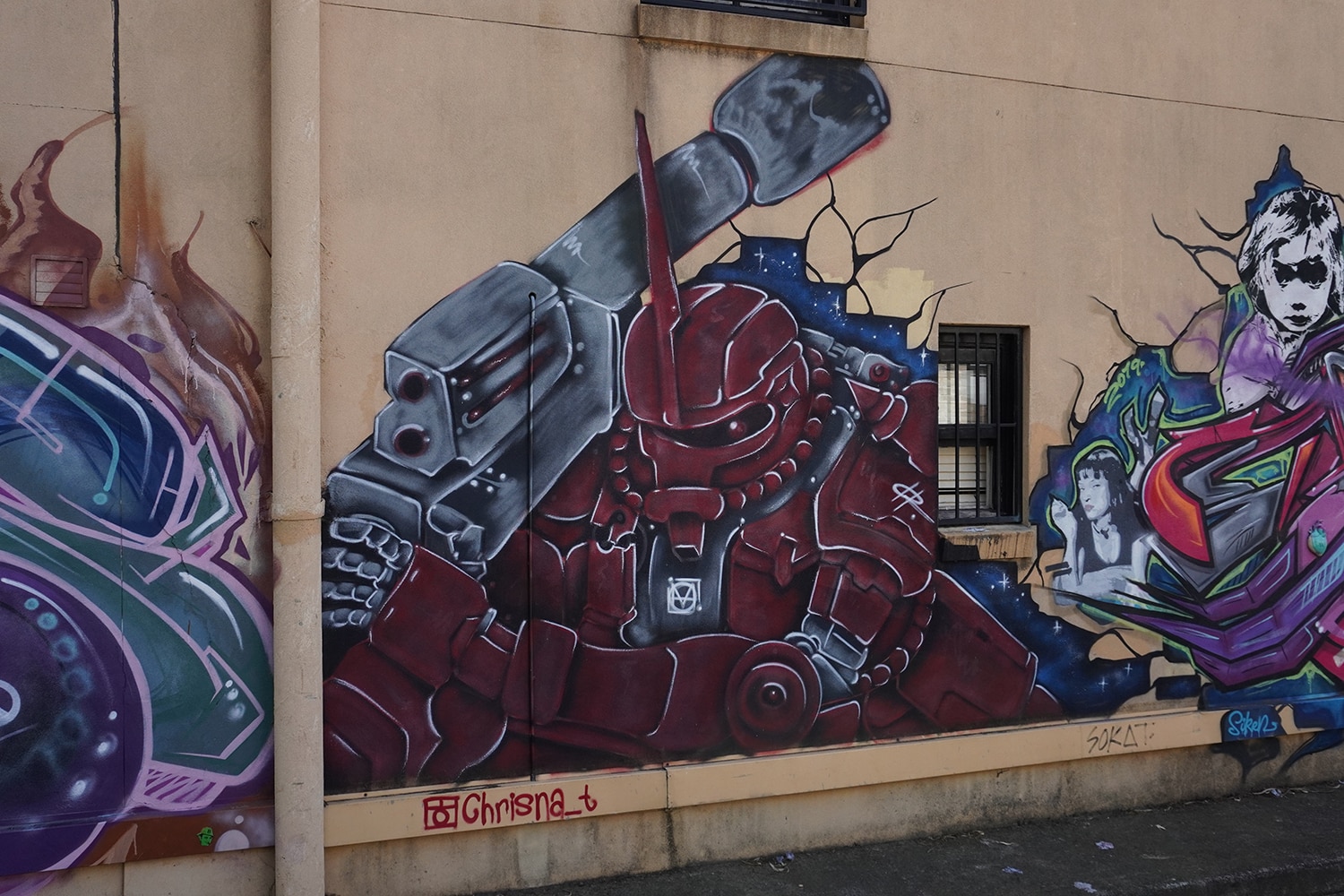 Newington Road (South) Art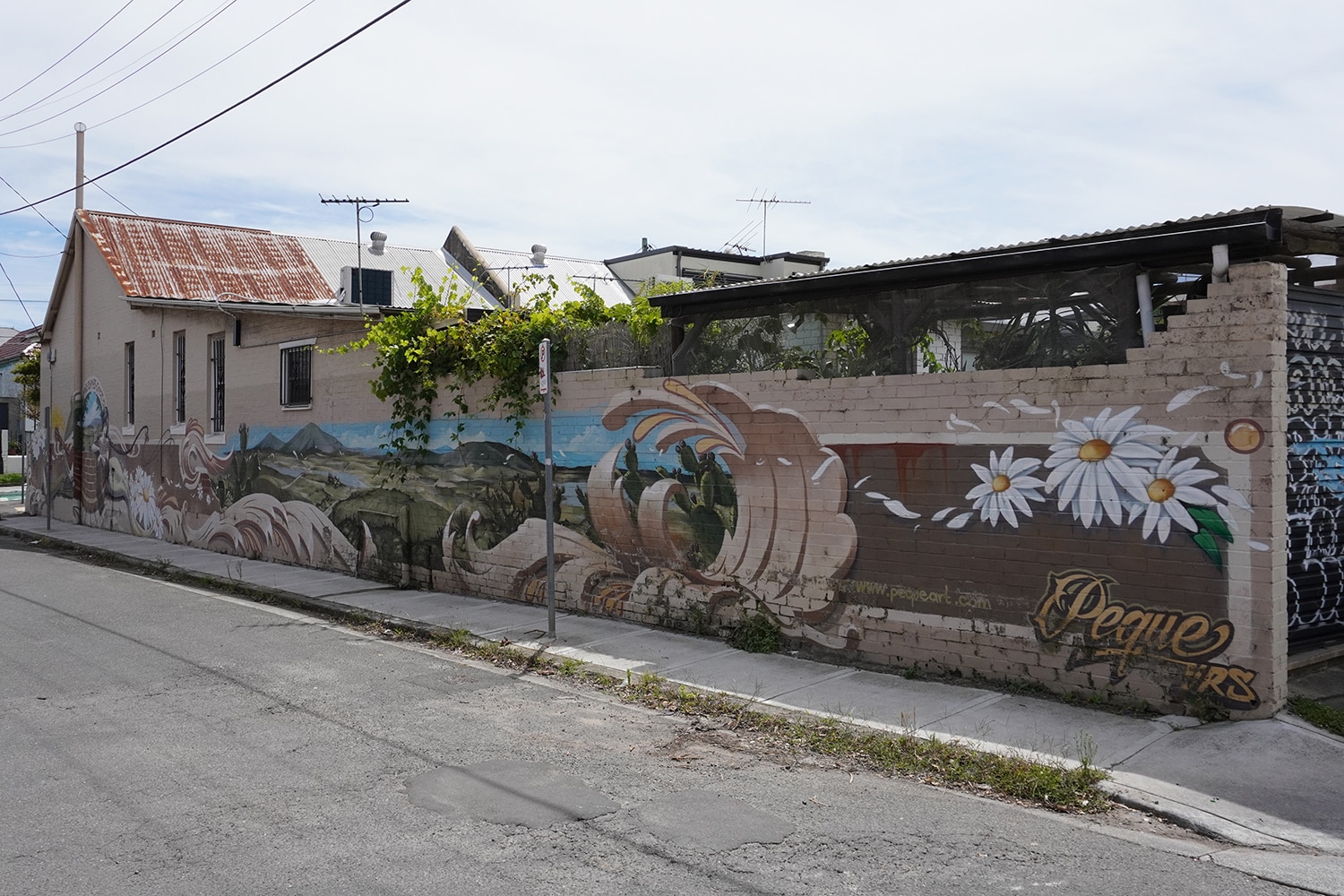 Edgeware Road Art
Hailing from Mexico and now residing in Sydney, Peque generates Murals and Illustrations throughout Sydney's Inner West including in Newtown. Peque completed this Edgeware Road, Enmore Mural 'La Seranata' in July 2015.
"The artwork depicts a typical Mexican landscape with the iconic scene of a Mariachi serenading the senorita he loves. The tradition of Dia de los Muertos is represented in the figures as the Artist offers a whimsical reverence for death, underscored by a celebration of life" (Virtual Tour)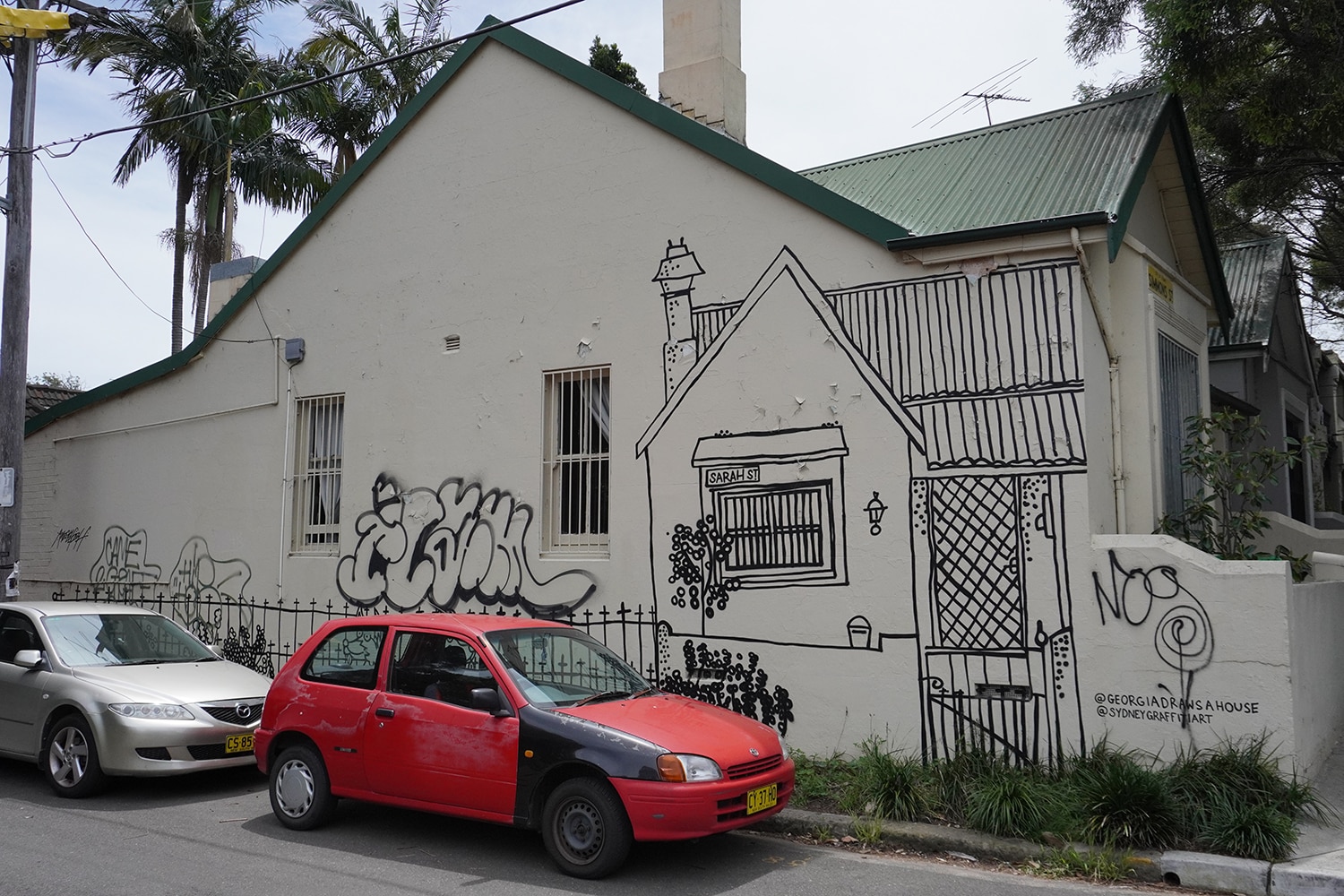 Sarah Street Art
Georgia Norton Lodge is an Author, Illustrator, Muralist and Artist who has sketched and drawn hundreds of houses throughout Sydney and Sydney's Inner West as part of Georgia Draws A House including on Sarah Street, Enmore (Virtual Tour)
You can find more of Georgie Norton Lodge's work at Black Star Pastry, Newtown and on your way to the next stop check out Rebecca Enya's 'Bring Back the Butterflies' just across the road on Sloane Street, Newtown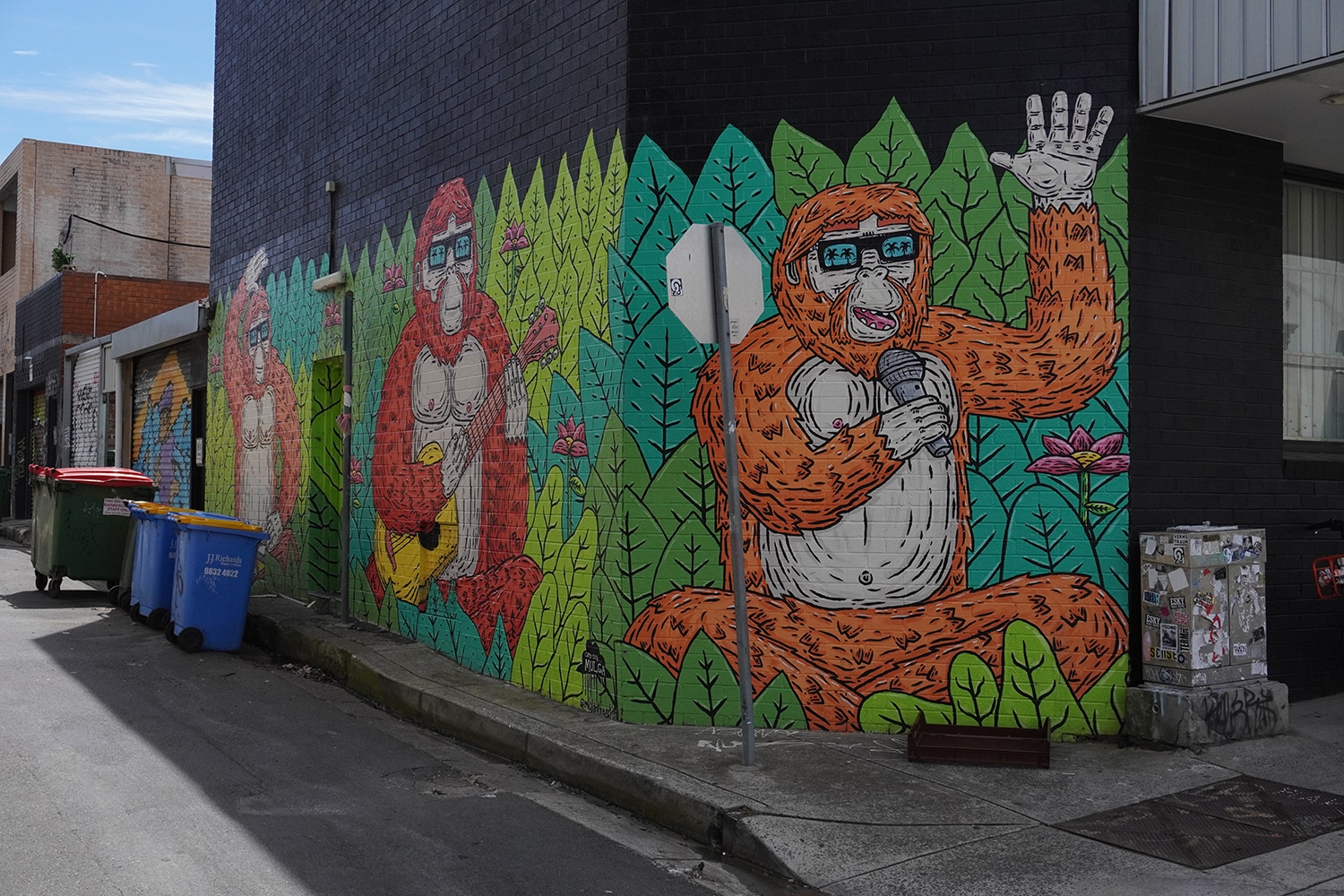 Enmore Lane Art
Freelance Illustrator, Muralist, Author and Designer Mulga the Artist works always with bright colours, has exhibited in over 60 Art shows and produced works all over Sydney including in Glebe, Newtown and Chippendale
This piece via Mulga the Artist can be found behind the Duke of Enmore on the edge of Enmore and Newtown accompanied by other works (Virtual Tour)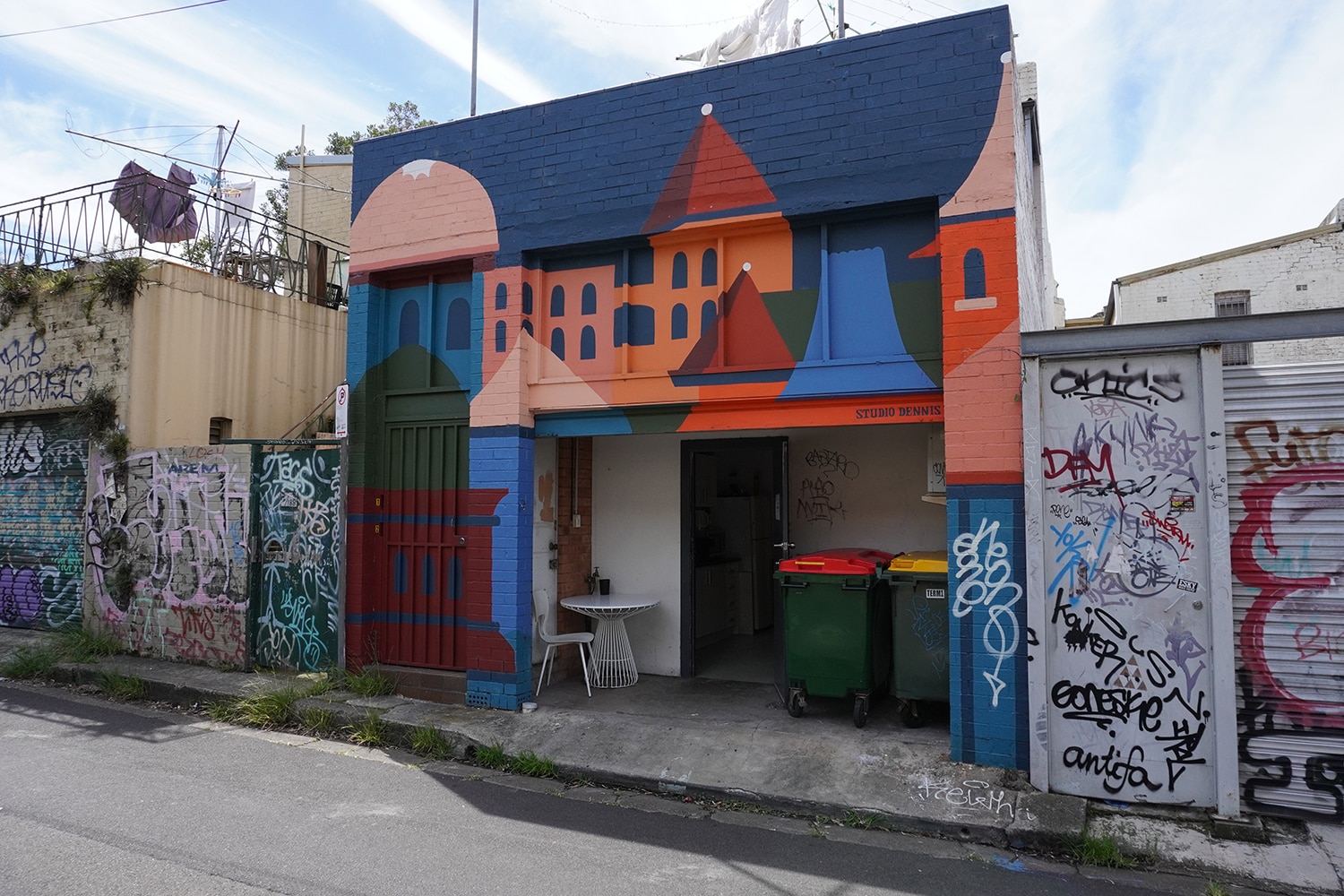 Metropolitan Road Art
Living and working in Sydney since 2000 and producing Street Art throughout the Inner West including in Newtown's Lord, Prince, McIntosh & Bailey Streets, Artist Andrew Dennis (of Studio Dennis) covers Mural Art, Painting, Design, Street Graphics and Textiles; creating wallpaper depicting subjects such as civilisations, bio domes, animal behaviour and future living. This cityscape was created for Belle Newtown in January 2020 (Virtual Tour)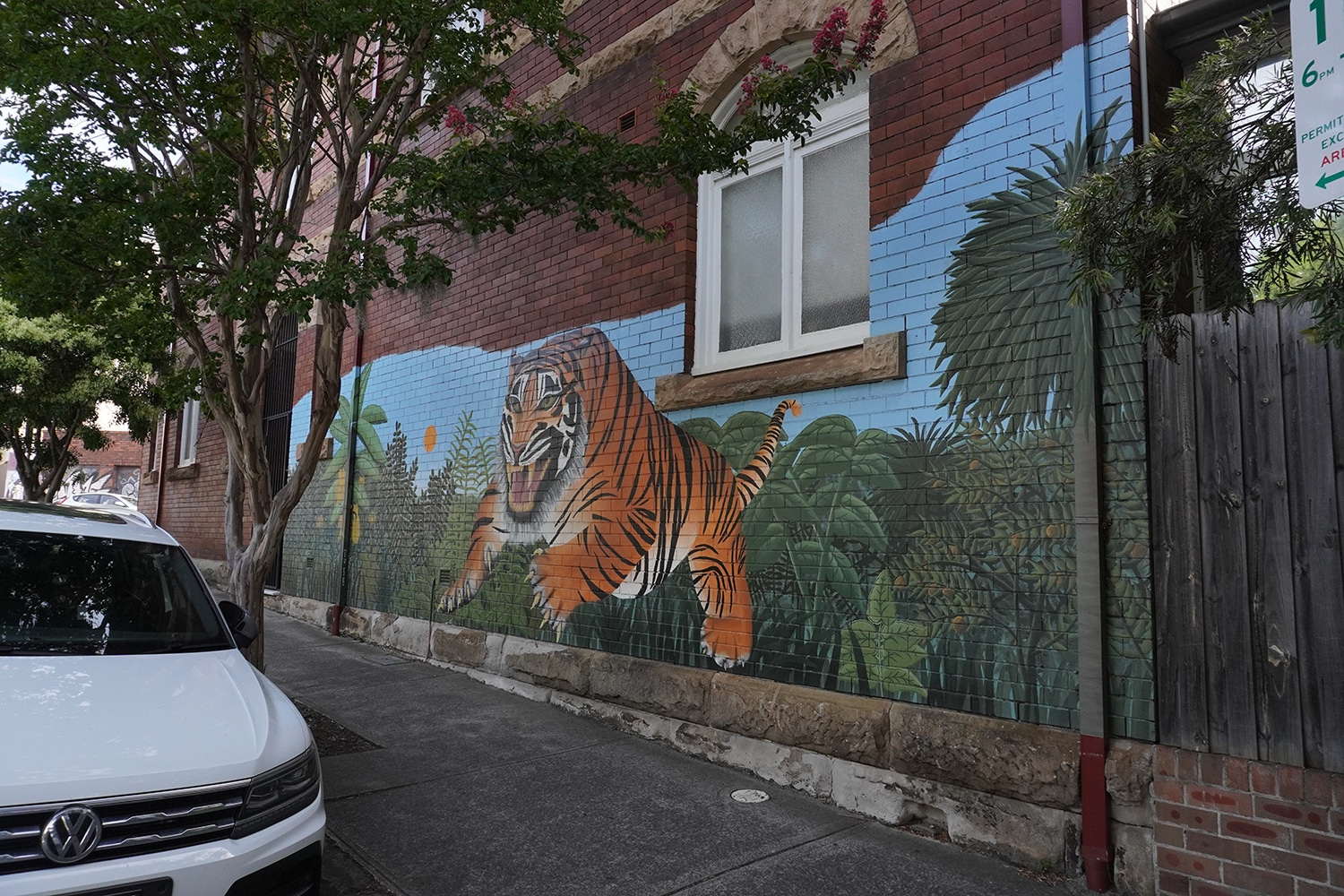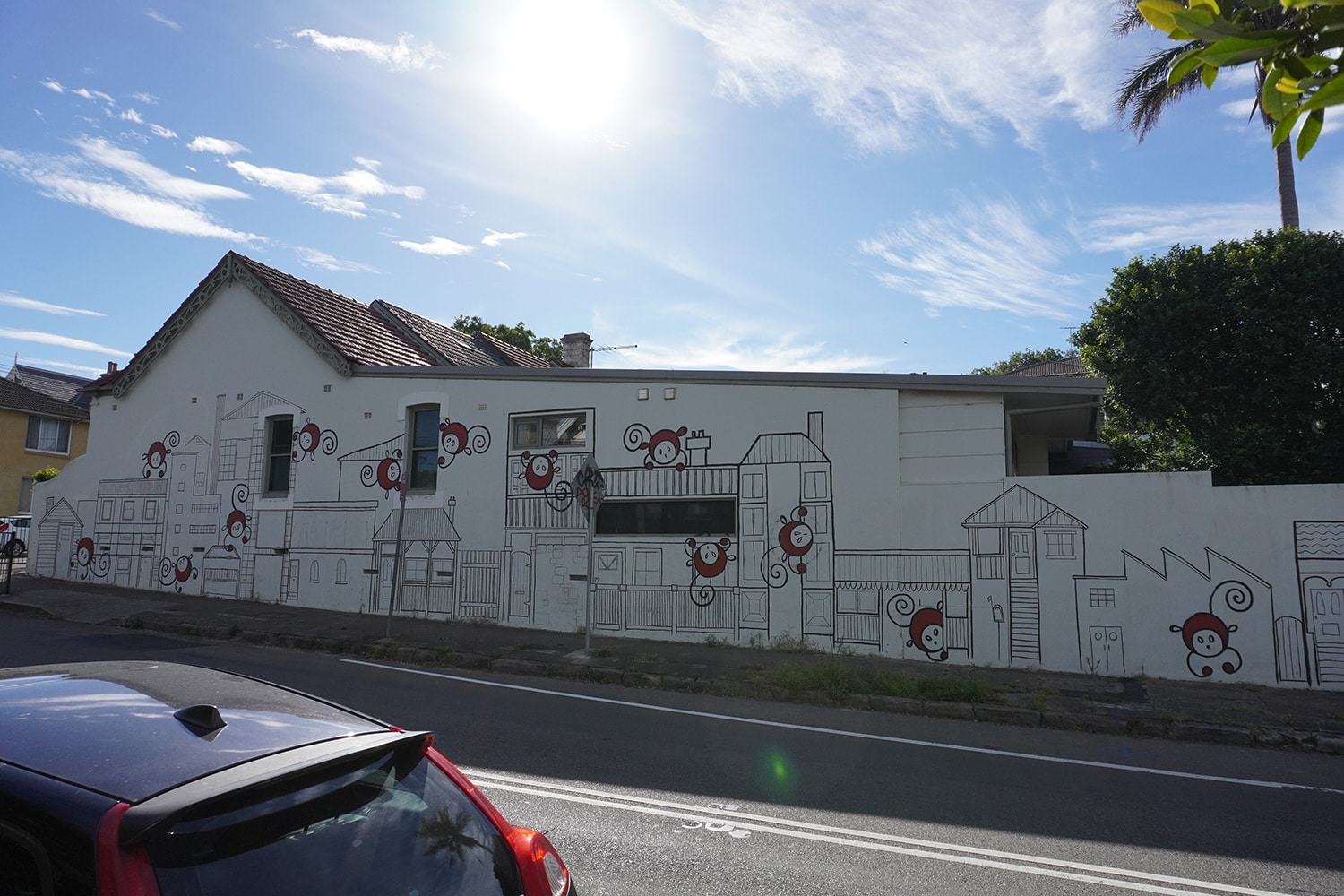 Liberty Street Art
Liberty Street's Artwork, stretching across the boundary between Enmore and Stanmore, aims to highlight advocacy and education by MS Australia (Virtual Tour)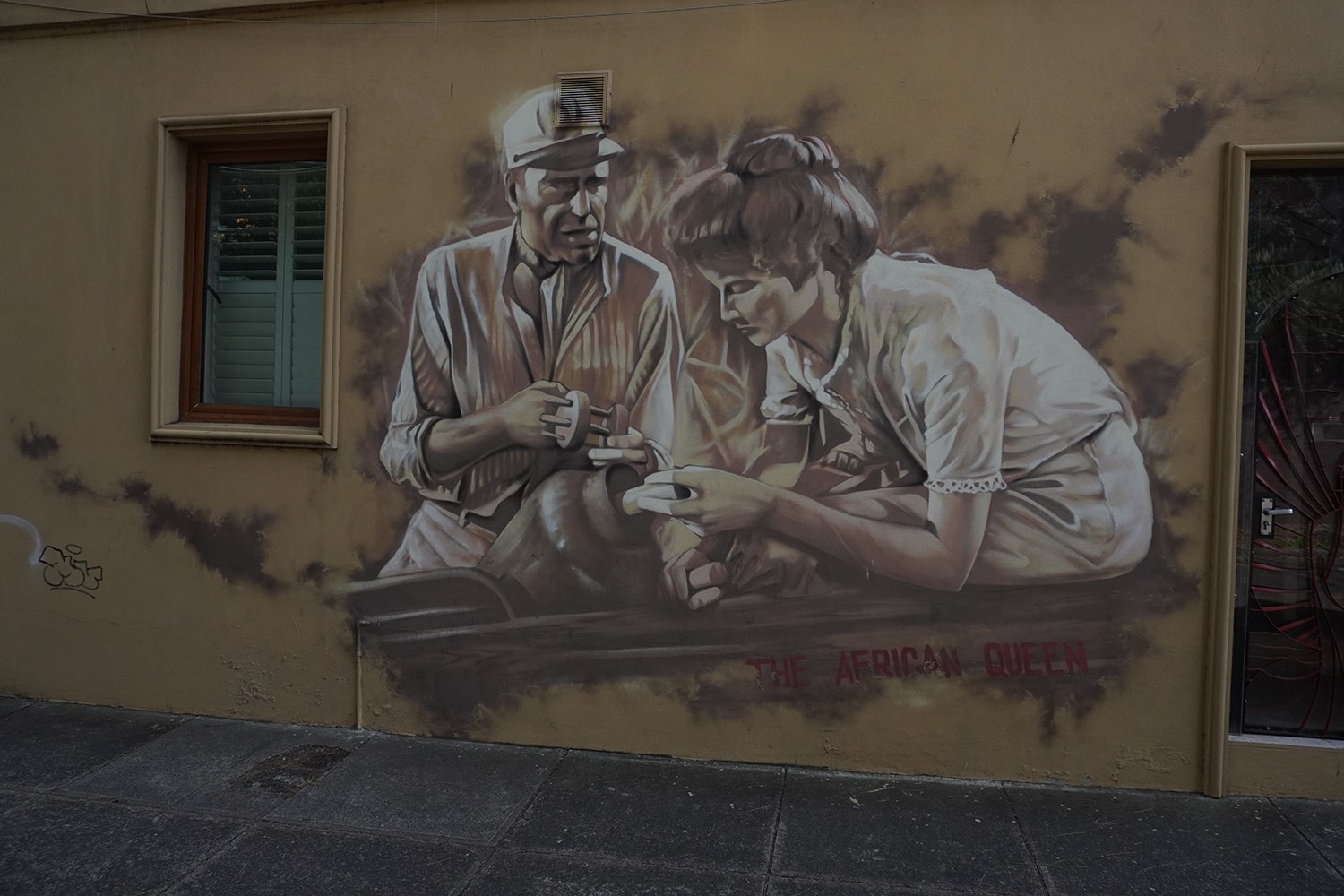 Trafalgar Street Art
Peque, whose work can also be found on Newtown's Dickson Street, completed this Trafalgar Street, Enmore Mural in September 2015 featuring Queen's Freddie Mercury and The African Queen's Rose Sawyer (Katharine Hepburn) and Charlie Allnut (Humphrey Bogart) (Virtual Tour)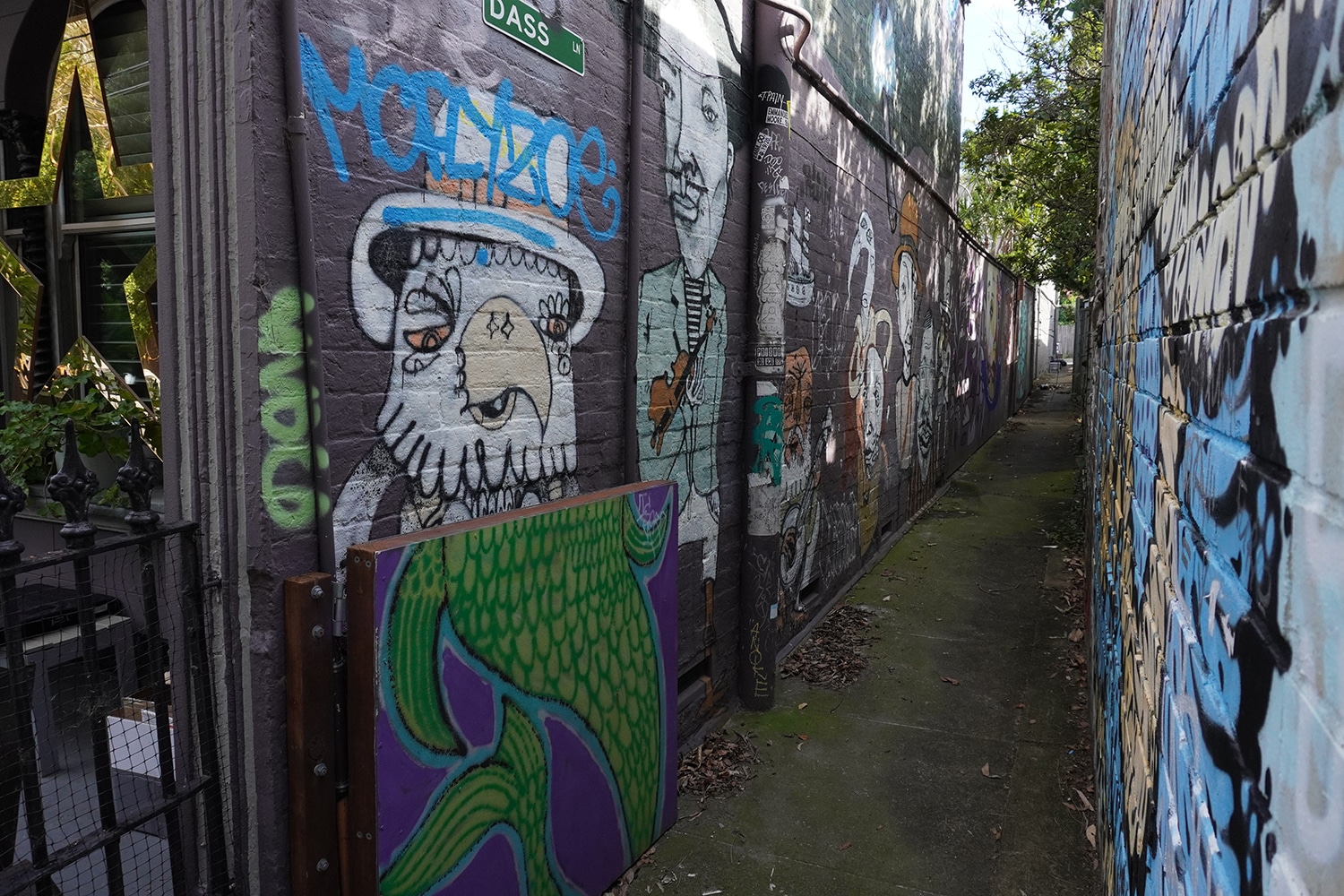 Dass Lane Art
Dass Lane, not a real Lane but co-opted as one by Artists, features Enmore Street Art stretching down the narrow walls. Some of the additions are from Captain Earwax whose works, featured throughout Sydney including in neighbouring Newtown, Darlinghurst and Glebe, incorporate portraiture and abstract expressionism via deconstructed figures and shapes (Virtual Tour)
When you've finished (or starting off) pop around the corner to Enmore institution Emma's Snack Bar for some delicious Lebanese food and a coffee!